UX Report on
Headspace App
Aiming to understand a college students' experience and journey with the Headspace app, identifying pain points and offering product recommendations on building customer retention
The original goal of this research project was to collect experiential and qualitative data from users of Headspace about their experience with meditation practice.
This was a personal passion project that I self-directed on my own because of my passion for mindfulness and interest in technology apps in that space.

Interested in studying Headspace because it was one of the most popular meditation apps, yet I found some issues with its customer journey experience and wanted to validate with real users.

Recruited participants by posting a "story" on my personal Instagram, interviewed eight individuals.

Consulted a Senior Design Researcher on some guidance around my project. He suggested narrowing and framing the purpose of the research in order to answer a compelling question.

Decided to focus analysis on the relationship between college students and the Headspace app. Specifically, aiming to understand the evolution of a customer's journey with mindfulness, from using it as a tool to solve a problem to mindful living.
I conducted several user interviews and grouped insights into action statements
Interviews
To forge a path for this project, I conducted user interviews over the phone in order to understand users' experience with Headspace and their motivation to start meditation practice.
I chose this research method because I could focus on collecting qualitative data and find a compelling question to guide this research report.

Research questions were framed to be open-ended and refrained from provoking biased responses. Some examples included:

What was your original intention/motivation in downloading the app?

Walk me through a typical day of yours when you have interacted with the Headspace app

What has been your experience using the app? How has it changed/evolved?

Have you experienced stretches of time when you did not use the app?

Did you have any preconceived notions about meditation before using Headspace and how did those evolve?

Interviewed 8 users with varying levels of experience with the Headspace app

I was most curious to understand why users continued or discontinued the practice; and for those who continued, understanding how their relationship to meditation evolved over time spent on the app

Main insights were broken into three different user questions

Why did users download Headspace?

Why do they keep coming back to the app?

What do they struggle with?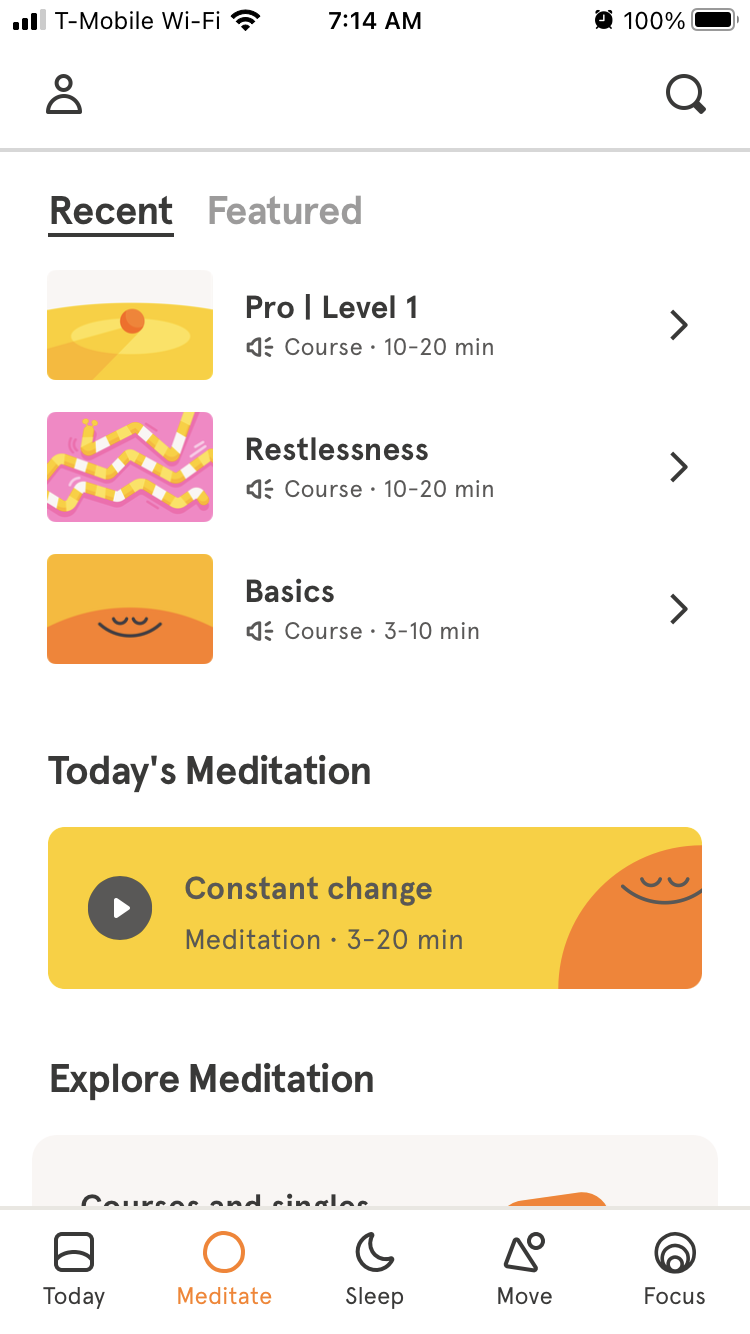 Interview Insights
I grouped insights into three categories, addressing: customer acquisition, customer retention, and losing customers.
Users downloaded Headspace because...

Reduce anxiety and stress

Increase focus and productivity

Live more in the present

Improve sleep

Users keep coming back because...

access to all meditation content in one place

discovery and practicality of meditation techniques

optionality of content

measuring progress on the app

Users struggle with...

environmental distractions while practicing

frustration and confusion around goal of practice

content feels monotonous
After conducting preliminary analysis, as indicated above, I consulted a Senior Design Researcher at Headspace to review my work.
He suggested narrowing and framing the purpose of the research in order to answer a compelling question. It is important, he said, for readers and potential stakeholders to have a clear goal and focus for the research. Given that 7 out of 8 of my interviewees were college students, I decided to make them the primary focus of this project. Based on their pain points and my interest in a users' relationship to meditation practice, I arrived at the research question below.
How can Headspace become a part of a busy college student's daily routine?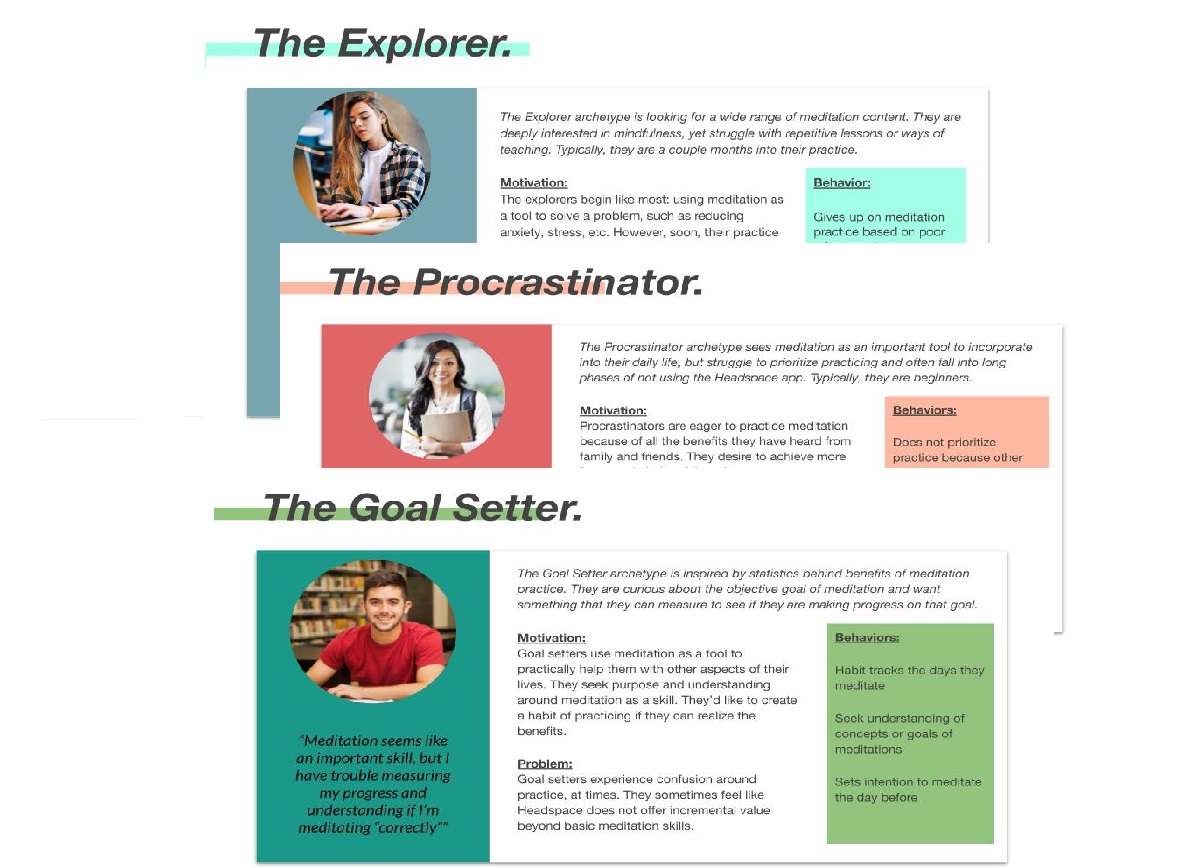 Archetypes
Based on the interviews and feedback from the Senior Design Researcher, I set up three archetypes. I referred to these while developing product recommendations.
At first, I created a couple of personas; however, after reviewing my work with the Senior Design researcher, he suggested to reframe my user insights with archetypes.

I chose archetypes because they are steeped in user behavior which served as a better framing for my product recommendations.

In addition, user behaviors change over time and archetypes felt more dynamic than strictly identifying one user under one persona group.

The three archetypes I created were: The Explorer, The Procrastinator, and The Goal Setter.

For each, I described the goal of the archetype, motivation, problems, user behaviors, and needs.

Archetypes helped me map users on a customer journey: identifying which sets of problems they experience based on their behavioral pattern.

I came back to archetypes often in my product recommendations to understand what solutions may be effective given current user patterns.
Customer Journey
To understand how customers discover and build a relationship with their meditation practice through the Headspace app, I created a Customer Journey Map.
The steps of the customer journey included: discovery of meditation and the platform, learning by listening to meditation sessions, mastering by venturing into more difficult practices, exploring other content on and off the app, and bringing mindfulness to daily life.

Different phases of the customer journey identify closely with a specific archetype. For example, the problems described in Discover are very similar to what The Procrastinator Archetype experiences.

Main pain points include confusion around goal of meditation, practice is difficult ("not sure if they are doing it right"), discouraged by losing habit, struggle with outside distractions ("need the perfect environment"), fail to find content dynamic nor inspiring.

Potential solutions include integrating a customizable weekly habit journal, dynamic content that directly address common insecurities or challenges, additional content around purpose of mindfulness (podcasts, mini-lessons, etc).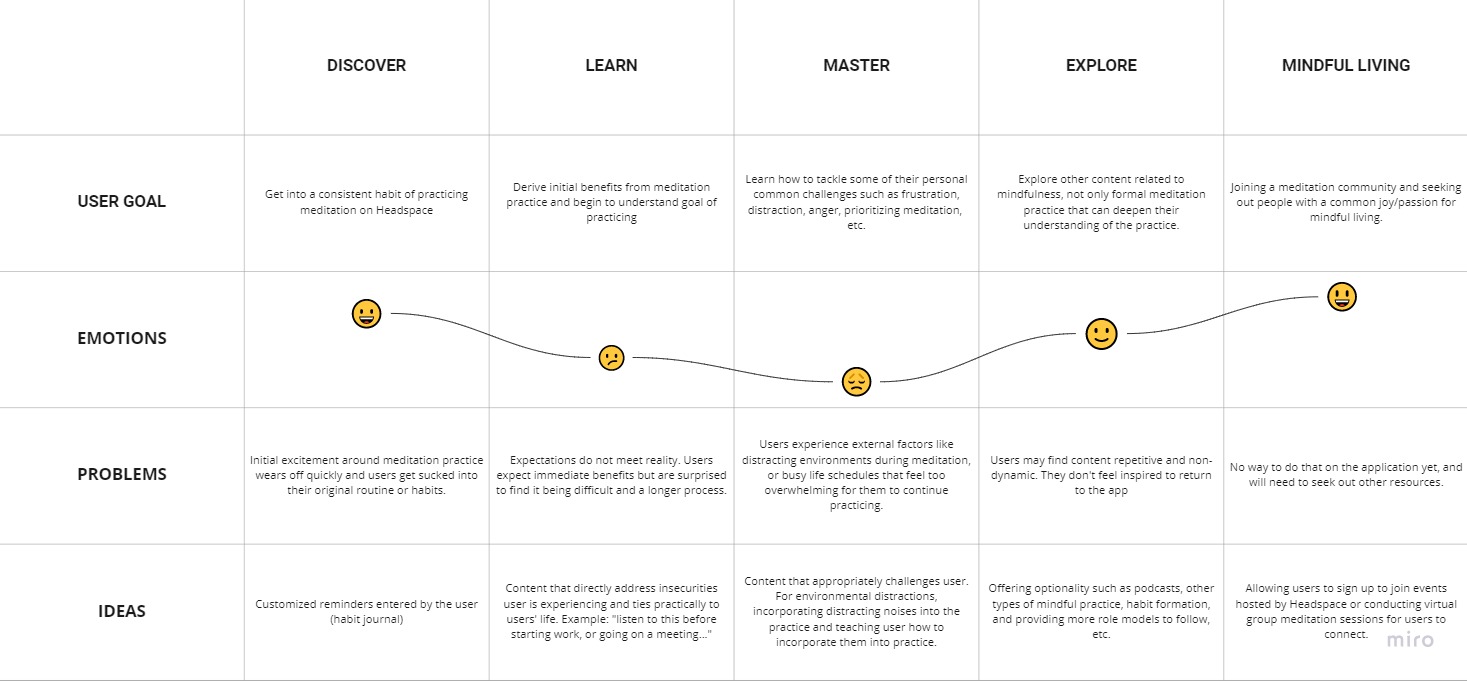 Empathizing with user experiences provided frameworks for
potential solutions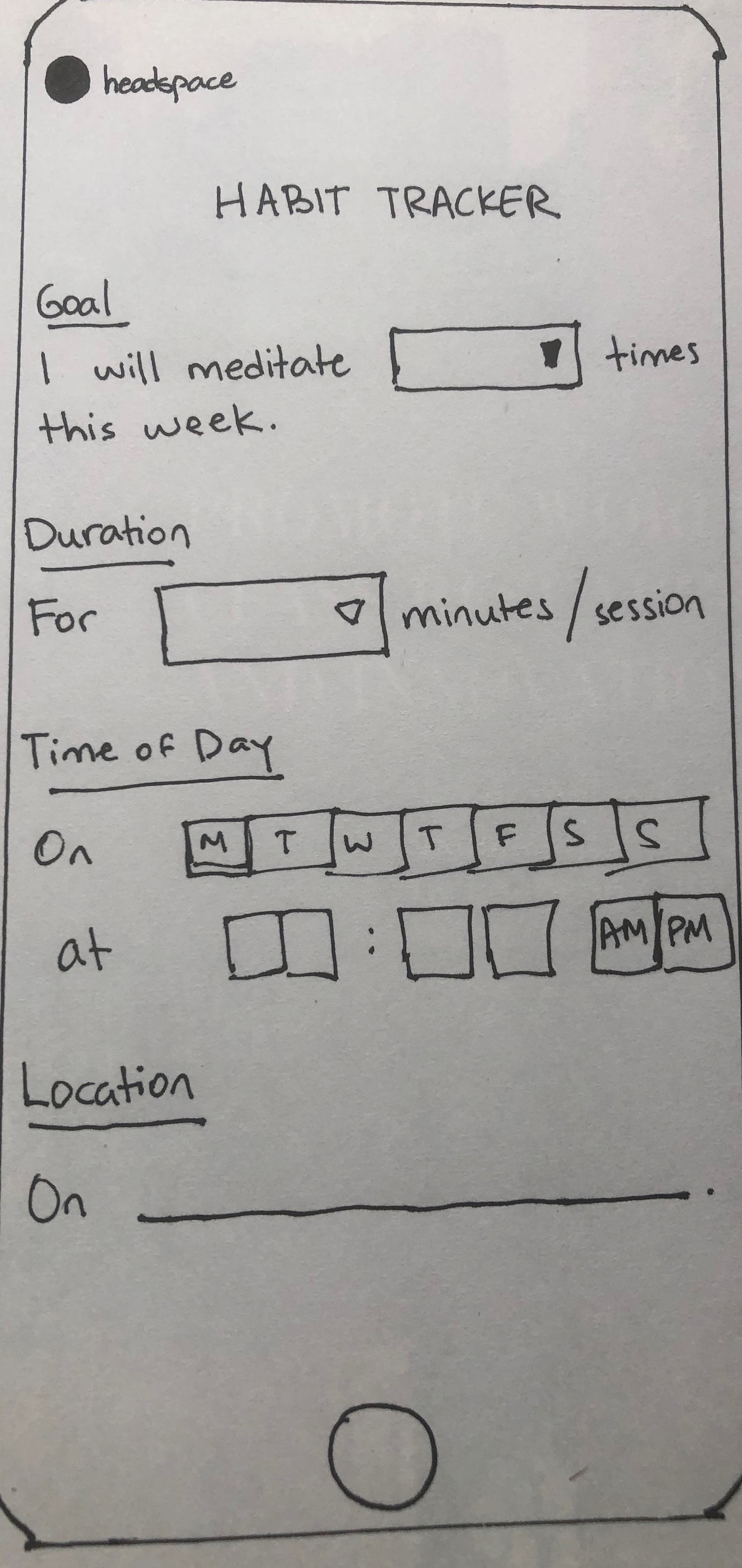 Integrating a weekly habit journal
Problem: Users get sucked into their busy schedules and lack a tool that can help them meet their practice goals.

Idea: Based on habit formation strategies from James Clear, I recommend building a customizable habit journal that remind users of their intentions and goals.

Target Archetype: Procrastinator and Goal Setter

Functionality:

Headspace can integrate notifications to remind Sonia. On Tuesday morning, Sonia can receive this:

Ex: "Sonia: This week, I will meditate on Tuesday and Thursday at 10 am for 3 minutes on the foot of my bed"

If they click on the notification, they will be taken straight to their guided meditation

Purpose: To create a tool that holds users more accountable to their intended goal of practice and helps them achieve linear progress.

Next Steps:

Brainstorm different mock-ups on paper and let best ideas guide further iterations

Wireframe the whole process from start to end of habit journal experience

Test low fidelity wireframes with various users and feed feedback into mid fidelity prototype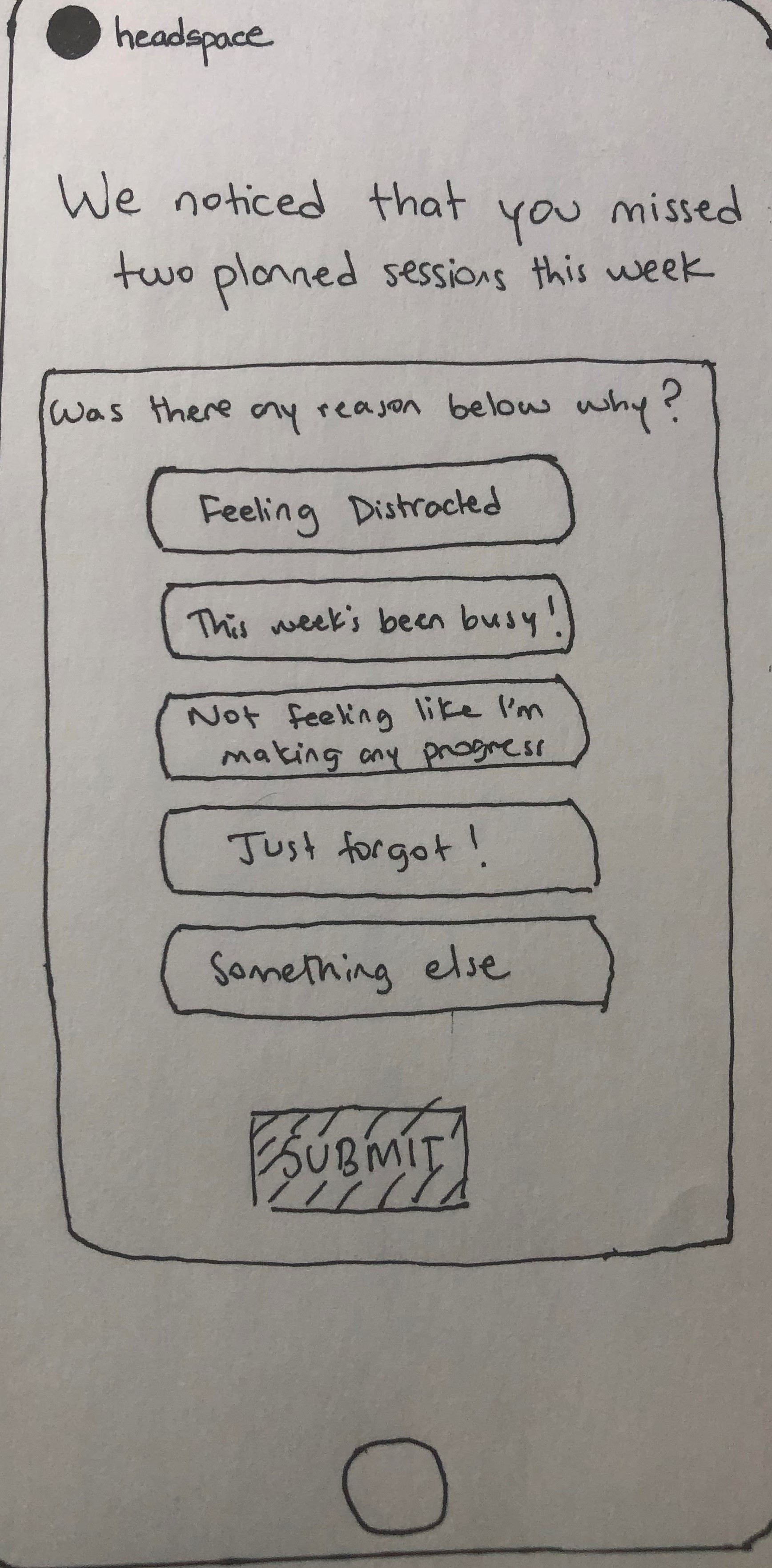 Customizing meditations based on a feedback form
Problem: Headspace users can stop their meditation practice for several reasons and there is no customized guidance to help them address their challenge.

Solution: Gather feedback on user behavior and customize content to help them tackle their challenge.

Target Archetype: All

Functionality:

Ex: Headspace user ends their meditation session early-> Headspace sends notification providing user options on why they ended early -> Headspace gathers feedback and presents customized meditation content that is targeted at solving user problem

Most common challenges can be included as options. Examples: environmental distractions, frustration around practice, laziness, lack of time, lack of motivation.

Purpose: To understand what challenges users are experiencing with meditation and better utilize abundance of content such as techniques and lessons to customize user meditation experience.

Next Steps:

Create sketches and low-fidelity prototypes of feedback form

Identify what trigger points should warrant a feedback notification (ex. stops meditation session early, has not practiced in a week, etc)

Identify methods of content recommendation (providing additional notifications, integrating specific technique or lesson into their daily meditations, etc).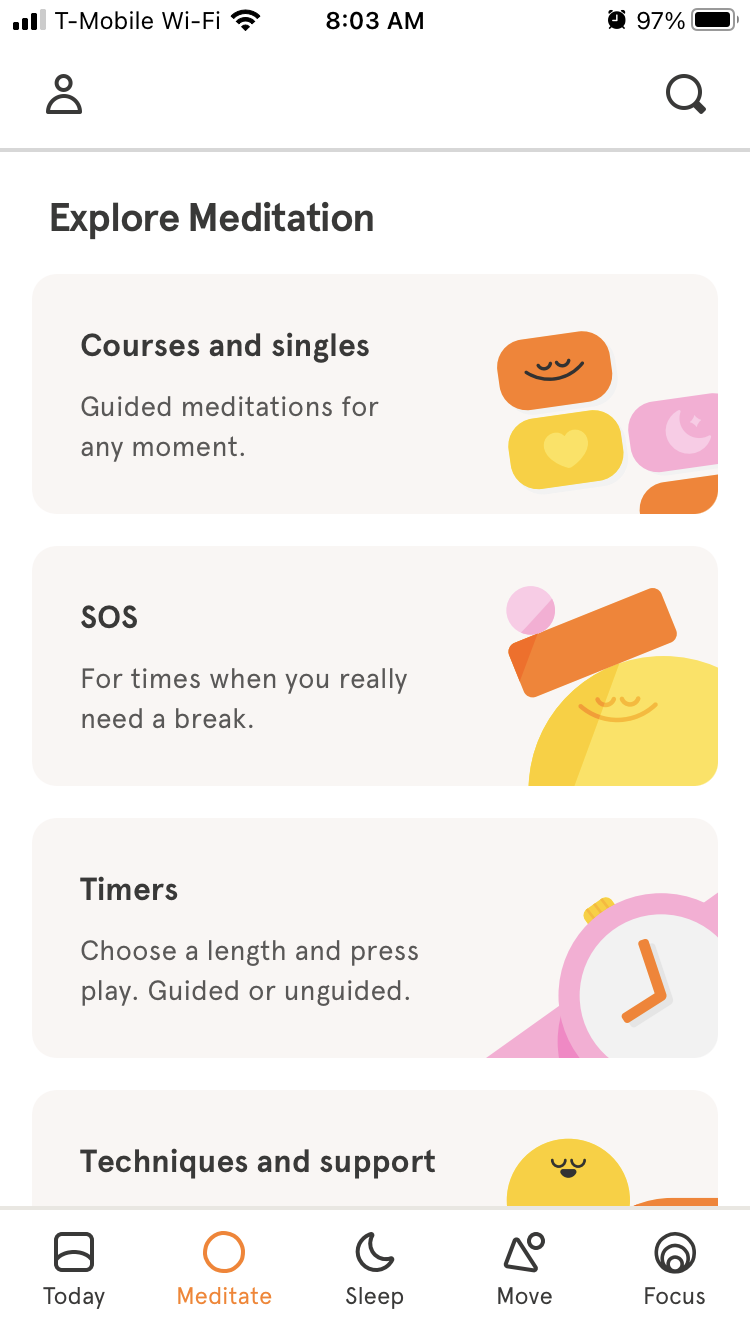 Adding other Teachers on Headspace
Problem: Headspace offers an abundance of meditation content; however, most of them are similar in style of teaching and tonality.

Solution: Consider bringing more meditation teachers on the platform and have them host their own guided series

Target Archetype: Explorer

Functionality:

Under the Explore meditation section, add another section with series from various meditation teachers in the community.

Each series can begin with a brief intro on their background, their way of teaching, and the goal of their series.

Purpose: Compared to the current monotonicity of meditation content, other teachers can cast an umbrella of opportunity for users who may align to different styles of teaching.

Next Steps:

Research other meditation teachers in the community and understand if their teaching aligns with Headspaces' mission

Draft a process framework of how teachers can contribute content and what their series may look like

Send surveys to outstanding users on what type of mindful content they may be interested in seeing.
What have I learned from this project?
This project was really special to me. As someone who is very passionate about mindfulness, I was really curious to understand how others are learning about the practice and incorporating the skill into their daily lives.
Over the course of this project, I learned many things:
My biggest struggle was boiling down the abundance of qualitative data into something tangible: insights or user segmentation or product recommendations. I was confused on where to start after summarizing the data I collected and did not have a clear direction on how to proceed.

Consulting the senior design researcher was incredibly helpful. He helped me understand that I needed to narrow down my focus and find a research question that can guide my design process. He also provided me additional tools and framings to work with. For example, I was introduced to archetypes and found it to be more appropriate for my user framing over personas.

I've learned that it is important to approach a research project with a specific goal/focus. I went into my interviews a little blind and asked very broad questions. Before jumping into user research, I've learned that I need to establish goals for the research. Asking questions like : "what do I hope to learn?", "what is my current hypothesis?", "what will I do with the information I find?" at the beginning will help frame the purpose of the project.