UX Research for Product Strategy Workshop
Created detailed personas to inspire new product features for a smart home device for a high-tech company
Background
A high-tech company hired Accenture's Innovation team to organize a 2-day workshop for their product teams to identify new features and capabilities for their smart home device.
Responsibilities: Developing user personas, facilitating design thinking activities, and conducting post-workshop retrospective

Timeline: 2 weeks

Client Stakeholder: Senior Design Researcher of Product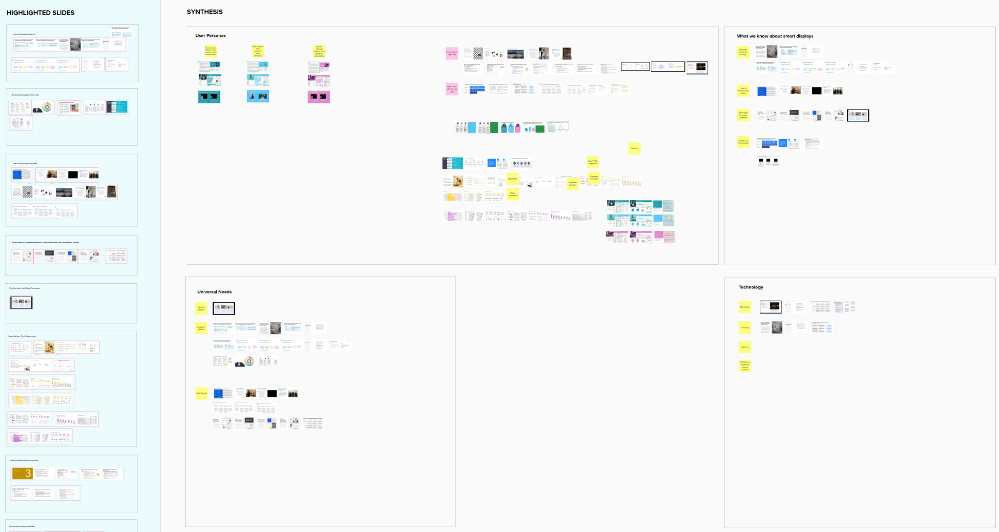 Foundational Research
To prepare for the workshop, we helped participants digest existing research by developing user personas to fuel ideation.
The client provided 14 documents across various product and design teams.

After reviewing all content, I developed themes to organize key information and developed initial hypotheses of distinct user profiles.

To synthesize information, I visually lay out primary and secondary sources of evidence and then define key characters of each group.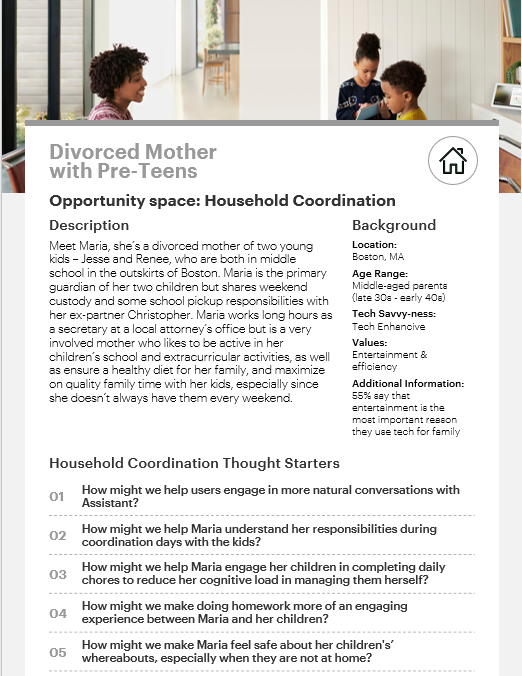 Persona Development
Using our initial hypotheses, we developed persona cards that were grounded in research and allowed participants to think creatively about potential solutions.
The goal of creating personas was to help workshop participants better understand the people they were serving with new product ideas. To achieve this, we aimed to create personas with:
Realistic descriptions that allow participants to empathize with the users needs

Quantiative Data / Statistics to ground participants in existing research

Actionable thought starters to inspire participants to think big and creatively about how to address user pain points
We crafted four personas, each with two use-case-focused cards pre-identified by the client.
Throughout the workshop, participants referred to these personas. They started by reading and becoming familiar with their assigned persona. Using the thought starters, they brainstormed product ideas. Next, they drafted user journeys for prioritized product ideas and used the personas to validate potential interactions.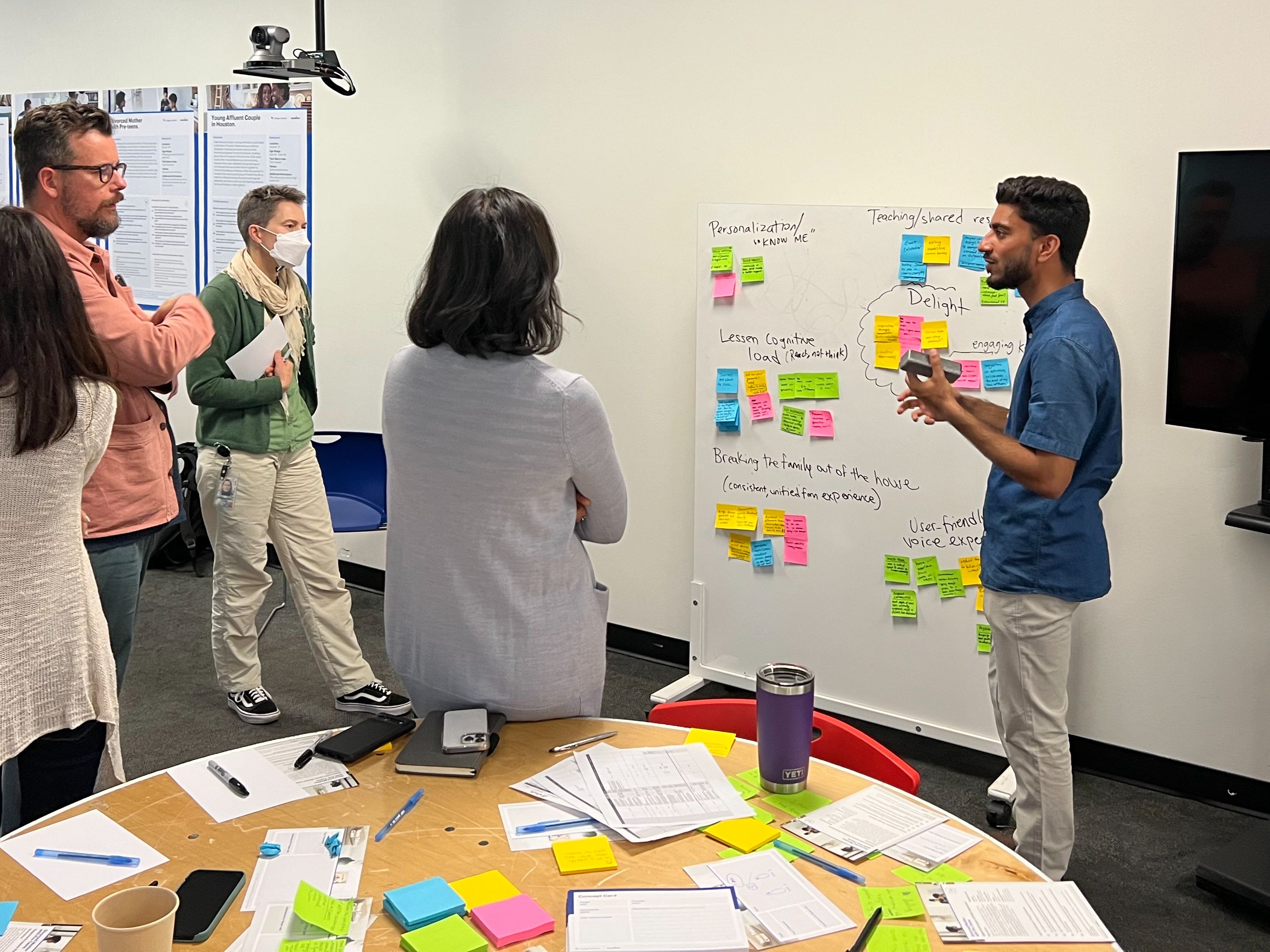 Workshop Facilitation and Outcomes
In the workshop, I led a group of 6 people in facilitating design thinking activities. Our goal was to think big and creatively about potential solutions for our assigned persona.
In our breakout group, I facilitated the generation of 50+ concepts, helped identify clusters, then worked with the group to prioritize two ideas to move forward to the next stage. Next, I encouraged participants to develop each idea in-more-detail by addressing pain points in the persona card.
At the end of workshop, the entire product team narrowed a total of 240 concepts to 5 specific product features for further exploration.
I received positive feedback from the internal and client team
Innovation Manager
Ankur was a valuable asset to our project, helping us digest a large amount of research provided by the client. He organized the materials and developed educated hypotheses on their connectivity, which informed the workshop design. Ankur facilitated discussions with stakeholders during the workshop and drove post-session reflection. Despite the heavy workload and short timeline, Ankur rose to the challenge and supported us through the entire engagement. He is a quick learner and an asset to any team.
Lead Client Stakeholder
I just wanted to say a HUGE thank you for the incredible work you did for the workshop. I recognize how complex this workshop was, especially as a remote/in person hybrid workshop, and that there were many nuances involved. Thank you for the thoughtful preparation beforehand, and for your help during the workshop to ensure that we all stayed focused and collaborated together as a group. We've received extremely positive feedback from both in-person and remote participants; wouldn't have been possible without your support. Thank you again!
Lessons Learned
Simplifying complex information: I found it challenging to organize disparate data sources into a user-friendly guide for participants. However, by carefully examining the available data and breaking down larger insights, I managed to create a cohesive story. This helped me generate several new ideas for interpreting the data and drawing insights that could lead to productive coversations with my managers and the client.

Effective Facilitation: It was nerve-wracking to lead a breakout group with managers and senior leaders. Nonetheless, I learned that by trusting the process and coaching participants through each step, I could guide them to reach their goals. A key lesson from this experience is that effective facilitation involves asking participants thoughtful questions that encourage participants to expand their thinking, rather than providing narrow answers.